ACTIVITIES & TOURS
---
---
---
WALKING TOURS
This is kind a walking tours that you will have an experience the local life of Cappadocia with seeing the village life. Cave rooms,pigeons houses, a little farmer houses, hidden churches and monastires will be highlights of the trips. Your first question in every 1 hour will be what is the next waiting us for discover.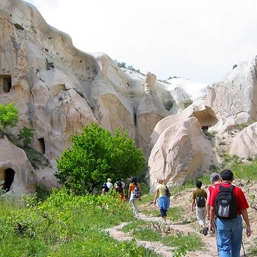 ---
HORSEBACK RIDING
( Horseback riding tour will be a different way to discover the area. It makes you out of traffic and sounds of the villages that you will have an silence of the enviroments while riding your horse and seeing the chiurches,valleys and hidden rocks of the valleys.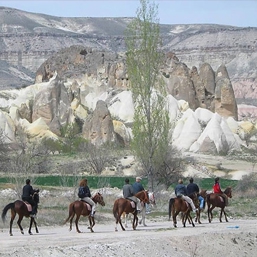 ---
Dervishes Ceremony
RUMI : The name Rumi stands for Love and ecstatic flight into the infinite. Rumi is one of the great spiritual masters and poetical geniuses of mankind , born 809 years ago in 1207. His ecstatic poems have sold millions of copies in recent years , making him the most popular poet in the US. Globally, his fans are legion. He's this compelling figure in all cultures . His life , his works and his philosophy is exhibited. Mevlevi Sufi Order : The most known sufi order all around the world is the Mevlevi Order, was established by Sultan Veled, the son of Rumi , after his death in 1273 within the framework of his father's ideas. Mevlevi Sema Ceremony : The Mevlevi Sema Ceremony, the most significant ritual of Mevlevi Culture , is regarded as a cultural heritage. In 2005, the Mevlevi Sema Ceremonywas proclaimed as a part of the Masterpieces of the Oral and Intangible Heritage of Humanity by UNESCO. It is one of the most important richness of the Turkish culture as a tradition of 800 years.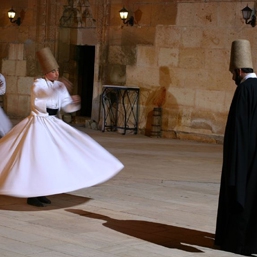 ---
Jeep Safari
Looking for the ultimate Jungle experience? We have another idea for the travellers who look like an adventure; it is a quad or Jeep safari tours. If you enjoy with driving 4 vehicle quads, you can discover Ibrahimpasa,Mustafapasa,Ortahisar villages with Love and Uzengi Valley. These tous organizes two times in a day; morning and evening sunset tours.
---